TASSEN trade shows: Collectione 2007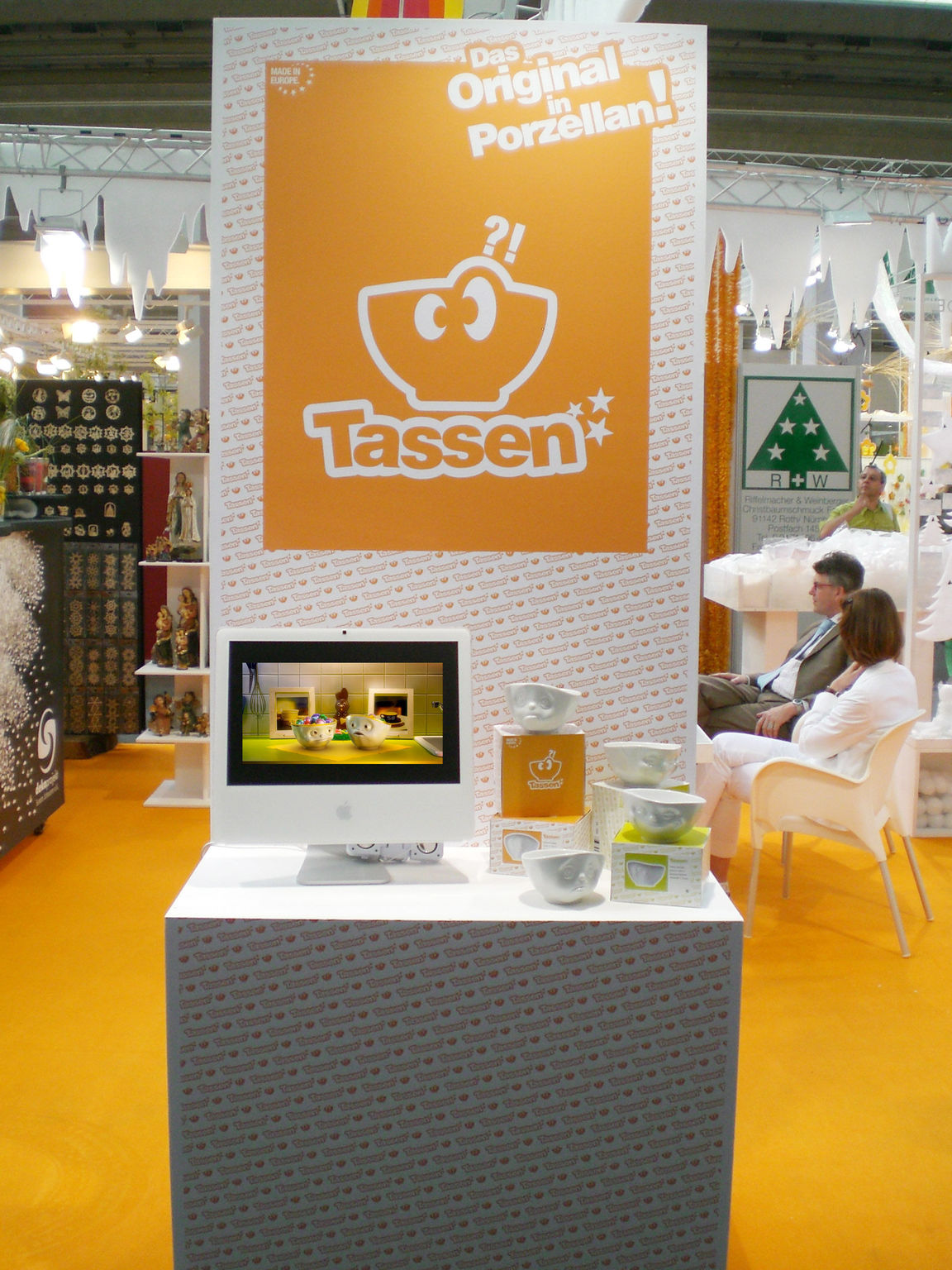 Everyone has to start somewhere. Our first trades how exhibit happened in 2007 at Collectione trade fair in Frankfurt. It proved an encouraging start to what has now become known as FIFTYEIGHT PRODUCTS. Here's a look back.
For us as a 3D-animation studio, exhibiting at a trade show was a special treat. After all, we're really only used to presentations and project meetings, going out and presenting your goods is a whole different story. We took the leap into trade show life close to home, at Collectione trade show in Frankfurt in 2007.
Our products were showcased at a small stand within the booth of what became our distribution partner, dekoprojekt. And our enthusiasm for presenting the first "real life" versions of our characters could by no means be held back by the fact that none of them were even available for sale at that point.
Our very first products were the "sulking" and "grinning" TASSEN bowls. The two animated little tea cup characters had become quite famous through a first viral video with audio dubbed by members German comedy team Mundtstuhl. We were inspired to produce a number of follow-up clips, which we screened on an iMac at the center of our product display.
Like any proud new parents, we could hardly wait to hear what trade show visitors would have to say about our new "babies," which we were finally able to hold in our hands, crafted from the finest porcelain.
And one thing we can say in hindsight is that this first "test run" at the Frankfurt Fair gave us the right amount of encouragement to take the leap into the strange, new world of "real-life" products. We were committed to pursue the TASSEN project further, and while part of the team worked on the tassen.tv e-commerce website, the rest of us were already scoping out the next trade show for exhibiting our goods. So it's safe to say: Collectione was where it all began.