Donations for a helpful and beneficial cause

2020 will be remembered as a year that made incredible demands on many people. A year that has faced communities across the globe with extreme challenges and hardships. But it was also a year that proved the power of solidarity and mindful action in overcoming the crisis.
This is exactly the point we wanted to make by adding a protective face mask to the character design of one of our most popular products: The 'Hopeful' porcelain bowl is a symbol for shared values, taking responsibility for each other's wellbeing and the unwavering belief that everything is going to be okay.
Right from the start, we committed to donating 1 euro for every bowl sold to a helpful and beneficial cause in different countries. Whenever 5,000 units of the 'Hopeful' bowl are sold, we will donate the amount to an organization or facility.
On that note, we would like to once again thank all of our customers and business partners for making a contribution with their purchase.


​​​​​​​

FRANKFURT, GERMANY
Oct, 8 2020
UNIVERSITY HOSPITAL FRANKFURT


5'000 EURO
As a company based in the town of Frankfurt, it was very important for us to dedicate the first donation to an initiative here in the region. And to make sure that it goes to people who make a special effort and commitment during the coronavirus pandemic, namely doctors and caregivers working on the frontlines of the crisis.

We were especially delighted to have the opportunity to speak in person about the initiative with Prof. Dr. Jürgen Graf, Head of the Board and Clinical Director of the University Hospital. As a result, we mutually agreed that the donation should benefit the in-house daycare center for clinic staff, the "Unistrolche" ("Little University rascals"), and its mission.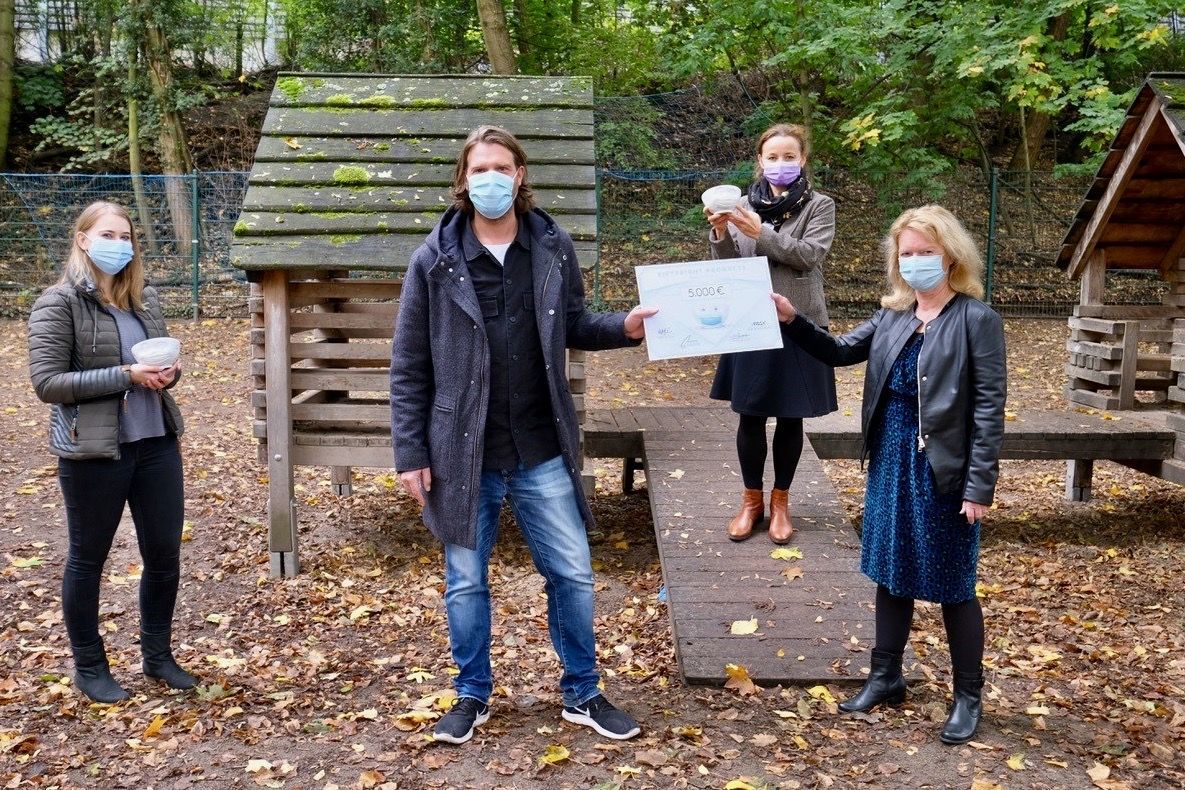 Marc Eckart and Saskia Gleixner (FIFTYEIGHT) handing over the donation.
Images (c) Universitätsklinikum Frankfurt
Further talks with Gabi Ehnert-Besbes, Women's and Equal Opportunity Commissioner and in charge of the daycare, were supplemented by feedback from the director of the daycare center, Angelika Cron. As a result, we were able to identify the perfect project to make a long-term, and most importantly to us, noticeable impact.

Due to the coronavirus pandemic, the daycare center's room layout and facilities need to be adapted to a constantly changing set of ramifications. Especially in the fall and winter season, the risk of infection is bound to increase because the children can spend fewer time playing outdoors due to inclement weather. In order to keep classes separate from one another, the initially open room concept needed to be changed and adapted to an enlarged room offering that is still attractive to children. These measures included a redesign of the so-called 'Construction Room' in the important 'Building and Construction' developmental course segment.

Supporting this expansion is a win-win: The children at the daycare center enjoy a safe and educational environment while the parents can focus on their important jobs at the University Hospital.


​​​​​​​

PARIS, FRANCE
Nov, 16 2020
INSTITUT PASTEUR


5'000 EURO
Bonjour! Our second donation related to our HOPEFUL bowl goes to France. In a spirit of empathy and longtime friendship. Especially because of our cultural similarities – including The French way of life, cuisine, wine and more – it was not by accident that 10 years ago, Philippe Cauchefert and Henric Kihlstöm with their agency La Petite Centrale became our very first international sales agents in the world. On that note, here's a special thank you for the amazing cooperation over all these great years. Most recently for the outstanding initiative in bringing our HOPEFUL bowl to audiences in France, where it is known as CONFIANT, and making this donation possible.


Our two agents took a good look around France in search of an institution where our donation would have the most beneficial impact. And they chose the INSTITUT PASTEUR as a world-renowned, French nonprofit organization based in Paris. An organization that has been fighting on the frontlines against infectious diseases for more than a century. In January 2020, the INSTITUT PASTEUR created a coronavirus task force in order to spearhead research projects for a better understanding of the COVID-19 virus and coordinate these efforts within the institute's international network.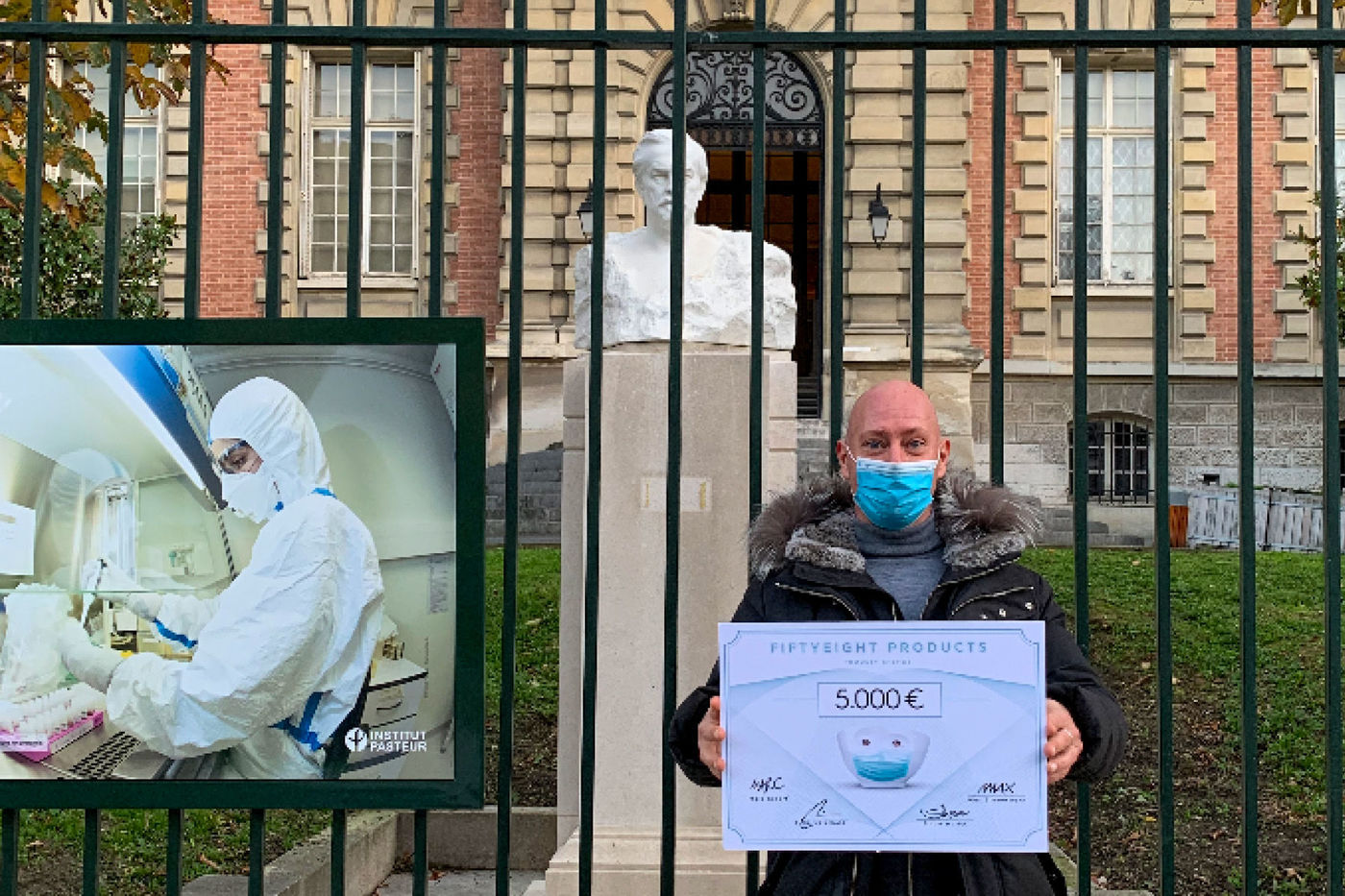 Henric Kihlström (agency La Petite Centrale) representing FIFTYEIGHT.
Unfortunately, France counted among the countries impacted most severely by the first wave of coronavirus in spring, and the situation is once again precarious going into fall 2020. With that said, the donation arrives where it is needed the most at the moment: At an institution for research projects to help mitigate and fight the COVID-19 pandemic in France.

To all our French fans, boutiques, concept stores and web shops for making this donation possible: Merci beaucoup!
MADRID, SPAIN
Dec, 04 2020
CÁRITAS


5'000 EURO
Hola! We are happy to announce that our third donation from proceeds of the HOPEFUL bowl is going to Spain. To be precise, it's going to the local Cáritas Organisation in Las Matas-Las Rozas de Madrid, a suburb of the Spanish capital. This is also the headquarters of our Spanish distributor for FIFTYEIGHT, Pablo Fuster.

We share a long passion for Spain and Spanish culture, although the partnership with Pablo is still a relatively young love affair. We only started working together at the start of this year. And as anyone can imagine, the impact of the coronavirus pandemic created tough conditions to get things running. Especially because unfortunately, Spain was among the hardest hit countries and had to endure a prolonged lockdown. The economic consequences were especially dire. As a result, the people had to deal with unemployment and shortages of fundamental goods such as food, heating, rent, and more.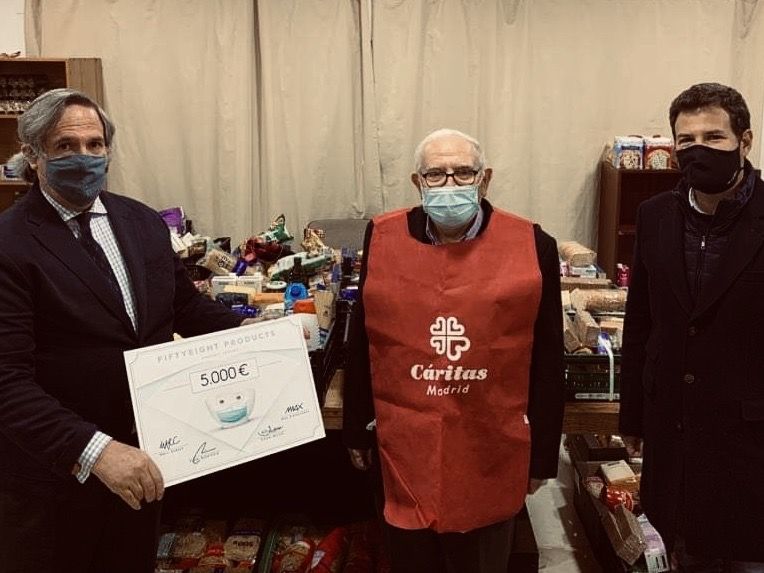 Pablo Fuster handing over the donation to Caritas.
When it came to looking for a suitable recipient for our donation in Spain, Pablo was a great help. Keeping the precarious situation in Spain in mind, he suggested the local Cáritas Organisation. All the money from the donation will be used here to support families in need. It will go to the food pantry, and urgently needed clothing and household goods, as well financial support for people who have lost their job due to the coronavirus pandemic.


We hope to make a contribution with our donation to helping people in the direct vicinity of our business partner in Spain. We also want to say 'Muchas Gracias' to the Spanish TASSEN community as well as all our customers who have made this donation possible with their purchase of the HOPEFUL bowl.
MILAN, ITALY
Dec, 21 2020
IRCCS Ospedale San Raffaele


5'000 EURO
Ciao! Our fourth donation is going to Italy, our next-door neighbors in Europe who taught us about living 'La Dolce Vita' and continue to influence us with their lifestyle and culture. We are very proud that our products are finding so much love and appreciation in Italy and that we can send some smiles and positive feelings over there. When it comes to spreading the love, we also rely on our good friends Alessandro Donnini and Markus Überbacher, who are working their magic distributing our products with their agency, GO BIG, in Italy.


Italy was also on our mind when it came to our next round of donations from the proceeds of our HOPEFUL Bowl. The main focus is, of course, making sure that the initiative benefits projects that are making a difference in these tough times. And as far as the impact of Covid-19 goes, the Lombardy and Milan regions range among the hardest hit in all of Italy. After conducting some very thorough research, our partners Alessandro and Markus chose the IRCCS Ospedale San Raffaele hospital as the recipient for the donation.

Alessandro Donnini and Markus Überbacher deliver the donation to Prof. Luca Guidotti.
At the hospital's laboratory, Prof. Luca Guidotti, Deputy scientific director of IRCCS Ospedale San Raffaele and his team are advancing fundamental scientific research on Covid-19. The lab is the only in Italy and counts among a few worldwide to conduct in vitro and in vivo research on fighting Covid-19. The institution urgently needs funding for the establishment and expansion of the new Covid-19 laboratory under strict safety guidelines.


We are thankful to our agency friends for making the connection and happy to make a contribution to this positive scientific endeavor.
​​​​​​​ 
'Grazie Mille' to the entire TASSEN community in Italy and everyone who made this donation possible with their purchase.
NEW YORK CITY, USA
Feb, 14 2021

FOOD BANK FOR NEW YORK CITY
5'000 EURO ($6'000)

"Hello New York City!" We're sending our fifth donation from proceeds of our HOPEFUL Bowl across the pond to our friends in the Big Apple. We not only have private ties and deep feelings for this amazing city that never sleeps. After many of our American friends fell in love with our TASSEN products, we've also founded our own company branch and warehouse in the United States a few years ago.
For this reason, we have been regular guests at the popular tradeshow NY NOW at the JAVITS CENTER in New York. Named after famous New York Senator Jacob K. Javits, the architectural milestone on the Hudson River makes a stunning appearance with its glass front. And twice a year, it hosts one of our absolute favorite tradeshows in the entire world. So we were really touched to learn that the same convention center, in which we usually present our products, was transformed into a field hospital for 1,000 patients suffering from Covid-19 last May.
In Spring 2020, New York City became the epicenter of the pandemic in the United States. It brought devastating damage to people's health and destroyed many jobs. For this reason, we really wanted to make a positive contribution to benefit New York with our donation. Speaking to our contact at NY NOW, we realized which kind of initiative could make the most impact: meals!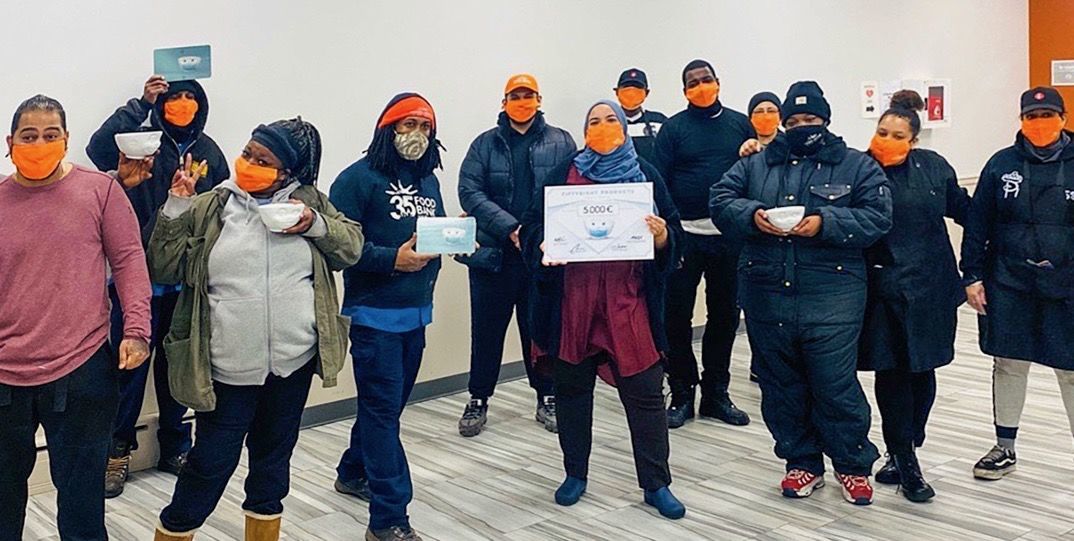 FOOD BANK staff receive our donation.
After some research, we decided to support the FOOD BANK FOR NEW YORK CITY. The beneficial organization is at the forefront of providing direct relief in these difficult times. Through its network of more than 1,000 charities and schools across the city, the FOOD BANK was able to provide more than 80 million free meals for New Yorkers in need during the past year.

If you would like to make a donation to FOOD BANK FOR NEW YORK CITY visit www.foodbanknyc.org

We hereby would like to thank all the countless helpers for ensuring that those in need can find a meal in New York City. And also thanks to the entire TASSEN community for making this initiative possible.
In recent news, the Javits Center has now been converted into a vaccination site. For us it's a great sign that things are moving in the right direction and that we have reason to be HOPEFUL about the future.
LIVERPOOL, UK
May, 19 2021

Alder Hey Children's Hospital
NHS Foundation Trust
5'000 EURO

"Hello kids in Liverpool!" The coronavirus pandemic has had us all in a tight grip for a long time now. And looking at the map, our friends in the UK have been among the hardest hit in all of Europe. But fortunately, the country's extensive lockdown measures and rapid immunization efforts are starting to make an impact in flattening the curve. At the same time, it's important to keep in mind that the full consequences of the pandemic will be here to stay for years to come.
Children are suffering from all the coronavirus restrictions especially hard, and many of them are too young to fully grasp what is happening. Most of all, it affects children who have to stay at the hospital and cannot understand why their parents, grandparents, and friends are not allowed to visit because of safety measures. For this reason, we have decided to make our next donation where it benefits the little ones.
We brought up the idea to Cathie Osborne and her team at our UK distribution partners Retaissance. They were quick to direct us toward Alder Hey Children's Hospital in Liverpool, an institution with more than 100 years of service to young patients on record. We were delighted to see pediatric care as another thriving tradition in the city that brought the world outstanding football moments from Anfield Road.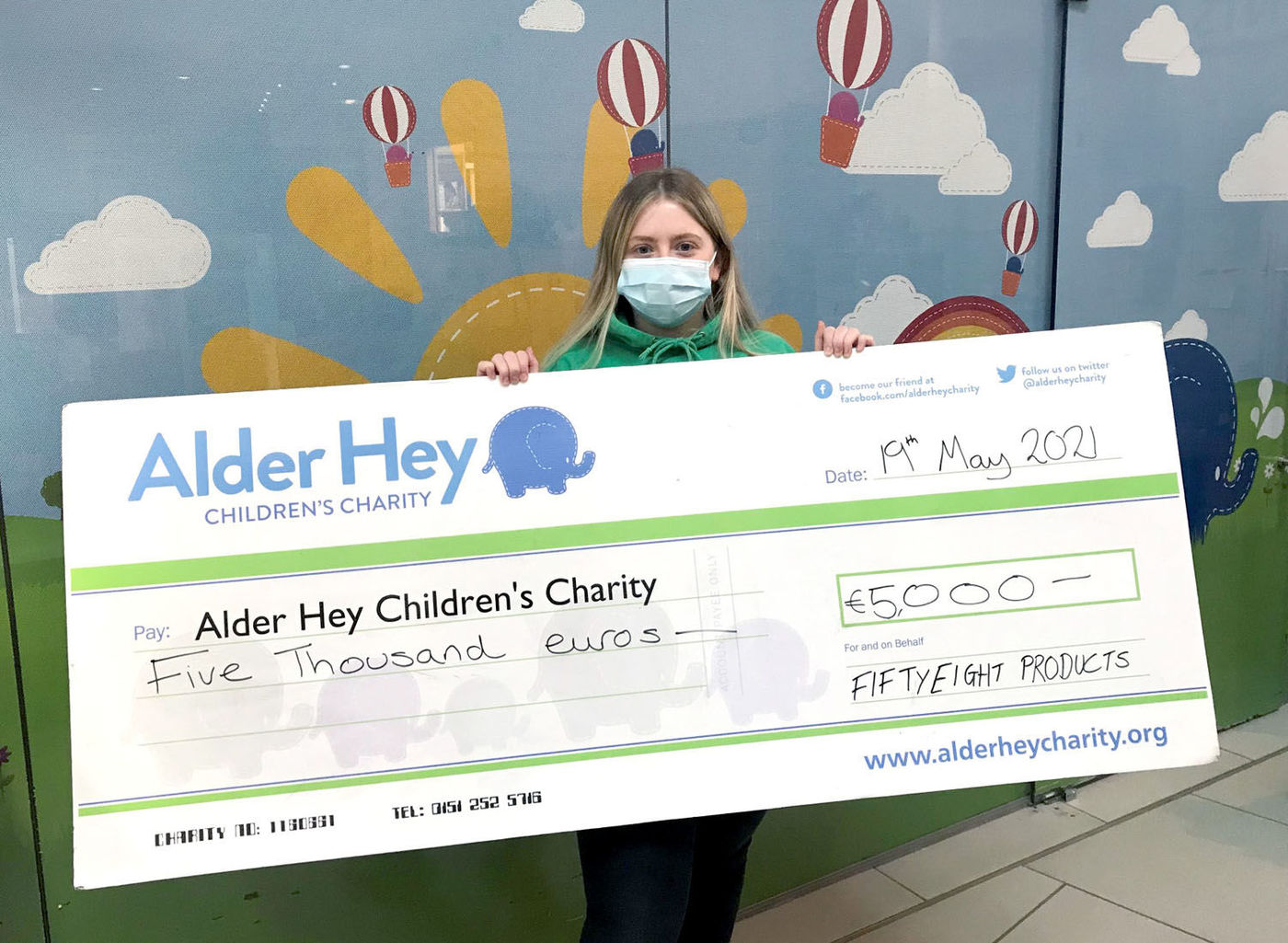 Alder Hey teammember receives our donation.
Alder Hey ist weit über die Grenzen Englands als eines der weltweit führenden Unternehmen in der Gesundheitsversorgung und Forschung für Kinder anerkannt und eines der größten und am stärksten ausgelasteten Kinderkrankenhäuser Europas. Hier werden gewöhnliche Krankheiten bis hin zu hochkomplexen und spezialisierten Erkrankungen behandelt.
"Wir wollen unseren kleinen Patienten nicht nur die beste Pflege zukommen lassen, sondern auch dafür sorgen, dass sie sich glücklich, sicher und selbstbewusst fühlen, während sie spielen, lernen und wachsen."
Dieses Selbstverständnis von Alder Hey können wir nur begrüßen und freuen uns, dass wir mit unserer Spende nach Liverpool, die wichtige Arbeit dieser besonderen Institution unterstützen. Ganz im Sinne der weltberühmten Hymne des FC Liverpool "You'll Never Walk Alone".
Herzlichen Dank auch an die TASSEN-Community und allen, die das ermöglicht haben.
BERLIN, GERMANY
June, 25 2021
"DIE ARCHE" KINDERSTIFTUNG, Berlin
5'000 EURO
"Better days ahead, boys and girls!" The summer holidays are just around the corner and the prospects of spending an actual vacation with family again provide a ray of hope after some very difficult times. Especially for school kids.
Because let's not forget that maintaining a regular learning schedule has proven increasingly hard over the past few months. The constant back-and-forth between home schooling and on-site classes demanded a lot from students and their parents. It's also becoming very clear how much the lives of children and adolescents have been disrupted by the coronavirus pandemic. The aftereffects and consequences will be here to stay for years to come, to say the least.
As we speak, public awareness about the problems surrounding young ones amid the pandemic is growing. Within our team here at FIFTYEIGHT, we have often discussed ways to help and make an impact. So now we took the opportunity to make a donation and choose the right partner in the education segment.
Similar to other crisis situations, the pandemic most severely impacts individuals already affected by social hardship. These kids are growing up under challenging conditions and can use extra help in many areas. For instance when it comes to assistance with their homework or taking private lessons and specialized coaching to help with their performance. At the end of the day, these initiatives require a positive learning environment and location to facilitate extracurricular activities.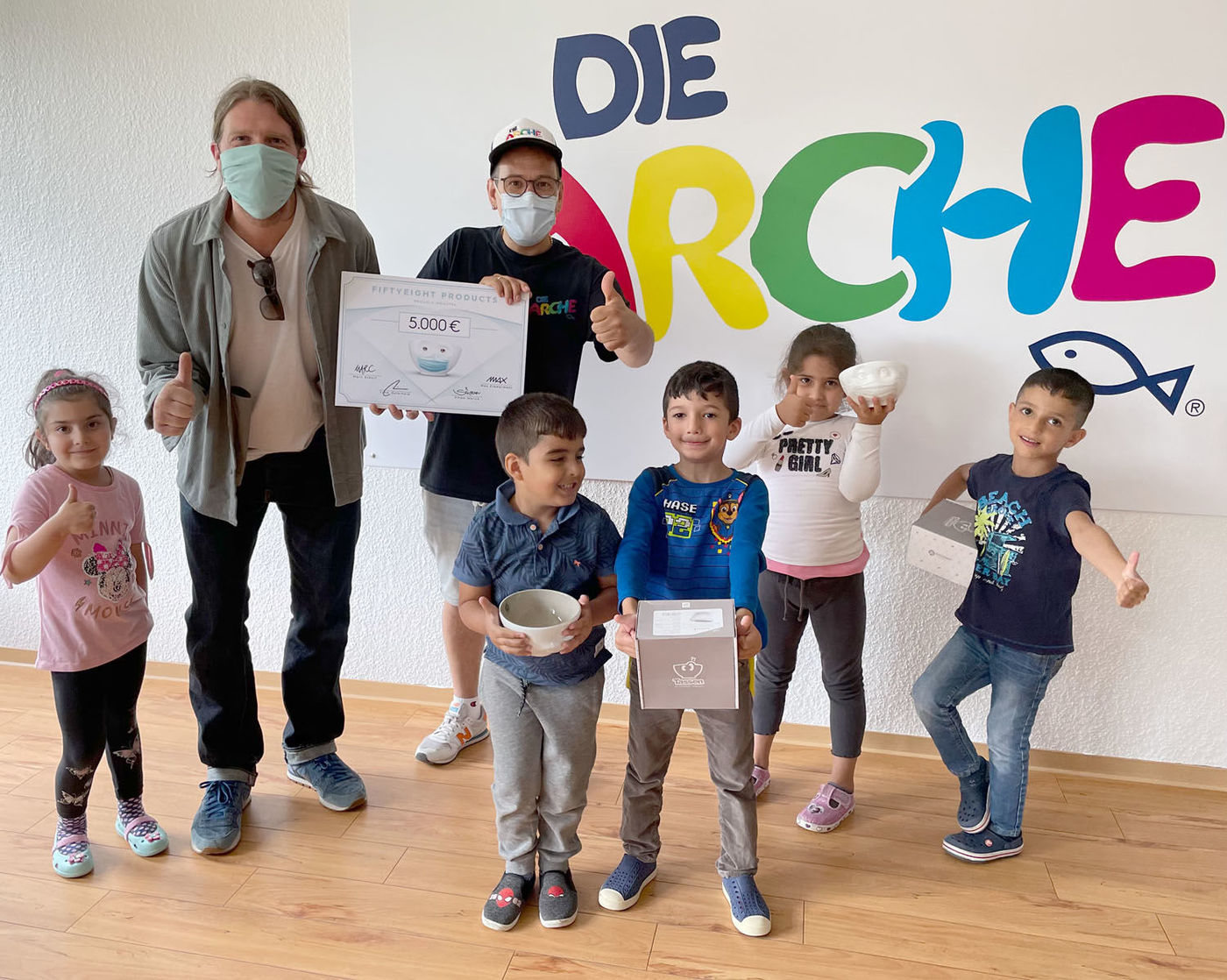 Marc Eckart (CEO FIFTYEIGHT) and Mr. Rauchhaus (Regional Manager of ARCHE's in Berlin).
This is exactly where beneficial association DIE ARCHE (named after Noah's Arch) makes a difference. Founded in 1995 by Pastor Bernd Siggelkow in Berlin, the christian association maintains around 27 locations across Germany reaching more than 4,500 kids and adolescents with their offering. DIE ARCHE also maintains additional facilities in Switzerland and Poland. We fully identify with the organization's goals of encouraging learning progress and offering assistance to students who need it the most. And we are glad to support DIE ARCHE with our latest donation from sales of the HOPEFUL Bowl. And we continue to donate 1 Euro for every bowl sold.
On that note, many thanks to all the countless voluntary supporters who help DIE ARCHE fulfill its mission. And also thanks to the entire TASSEN community and all customers and retailers who have powered our donation initiative. You're the best!
VIENNA, AUSTRIA
September 9, 2021

Haus Immanuel, Caritas Vienna

5,000 EURO

Servus, Vienna! Our donation initiative to support Covid-19 relief continues in the city of Mozart. We think that it's important to keep the ball rolling, because the summer may have brought an ease in restrictions and holiday travels for many. But we also cannot ignore the fact that despite the positive developments around corona, the upcoming autumn and winter will most likely bring significant challenges once again.
In the meantime, a lot of the limitations and negative impact around the pandemic remain in place. Especially for people already challenged by social disadvantages, who are facing increased hardships in these problematic times. With this in mind, we looked across the border to our friends and neighbors in Austria for a relief organization to support with this round of donations from the sales of our Hopeful Bowl.
In our search, we enlisted the help of our long-time distribution partners in Austria, Hans Bauernfeind and Gebhard Augendopler at BLP. The two run the decoo lifestyle concept store in Vienna that is home to a remarkable selection of gift ideas, including our full selection of TASSEN products.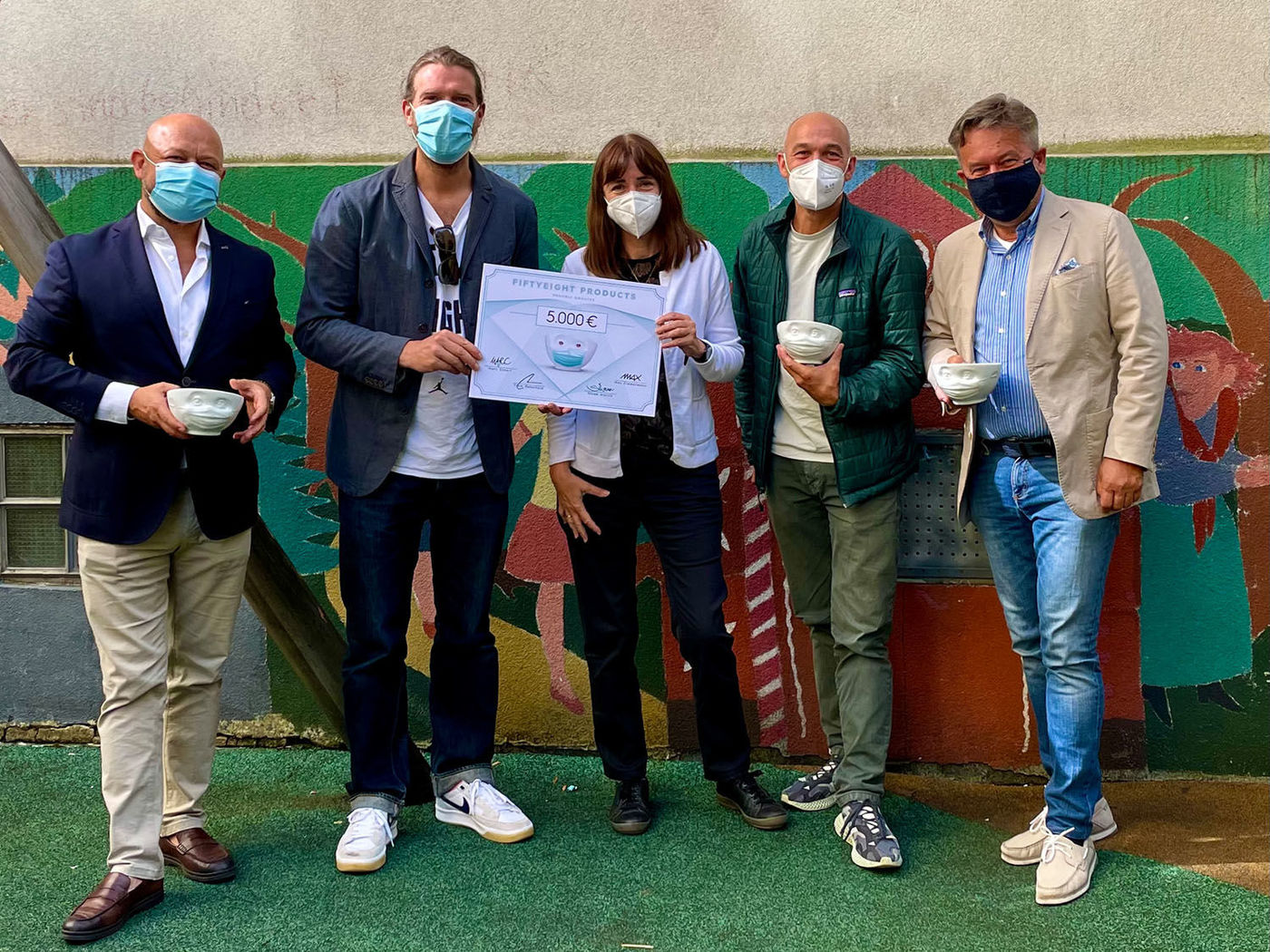 Marc Eckart and Chris Endres (FIFTYEIGHT), together with Hans Bauernfeind and Gebhard Augendopler, handing over the donation to Christine Polesny, Assistent of Haus Immanuel.

Listening to their recommendations, we all agreed to support the Haus Immanuel facility operated by the Caritas Arch Diocese Vienna. It's an intermediate shelter for people without homes and foreign mothers and their children. The main goal: To provide support for the mothers and opening perspectives for the future, so they may resume an independent life after leaving the facility.
One of the key focus areas of the Haus Immanuel facility lies with supporting the children's learning and development. Plus, the facility's living quarters are not isolated, but all integrated within a larger Vienna apartment building in the Old Town. This concept really caught our attention, and we want to support the Haus Immanuel's goals of furnishing additional apartments for families, which are in high demand right now, in the near future.
On that note, we want to thank everyone at the Haus Immanuel facility and their supporters. And of course, also thanks to the international TASSEN community for making this donation possible with their purchase of the Hopeful Bowl.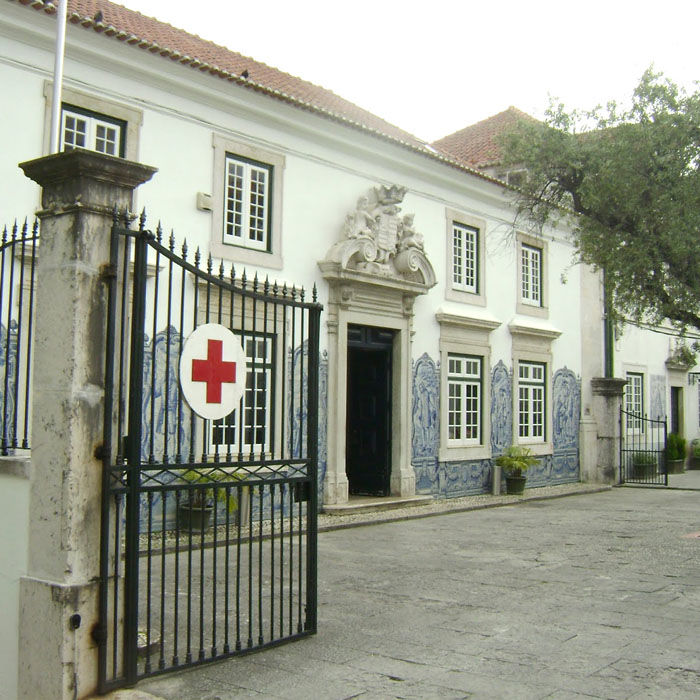 Headquarters of the Cruz Vermelha Portuguesa in Lisbon.
LISBON, PORTUGAL
October 20, 2021

Cruz Vermelha Portuguesa Sede Nacional, Lisboa

5,000 EURO

"Olá Portugal!" Thanks to our sales partners Alok Design Brands, we are delighted to report that our next round of donations is heading to our good friends in Portugal. And on that note, we want to express our amazement at how well the country has managed to get a grip on the coronavirus pandemic. We still remember the situation in early 2021, when Portugal registered the highest infection rates in the entire world. Fast-forward to today, and 98 percent of the over twelve-year-old people in the Southern European country are fully vaccinated. That's setting a global example!

The recipient of our donation, the Portuguese Red Cross, has been fighting the pandemic on the front lines from day one. With more than 40 test centers across the entire country and countless mobile intervention teams, a massive amount of people could get tested for COVID-19 in a short amount of time. Thanks to this tightly organized infrastructure, installed nationwide in close cooperation with official health organizations, it was possible to curb the spread of the pandemic quickly and efficiently.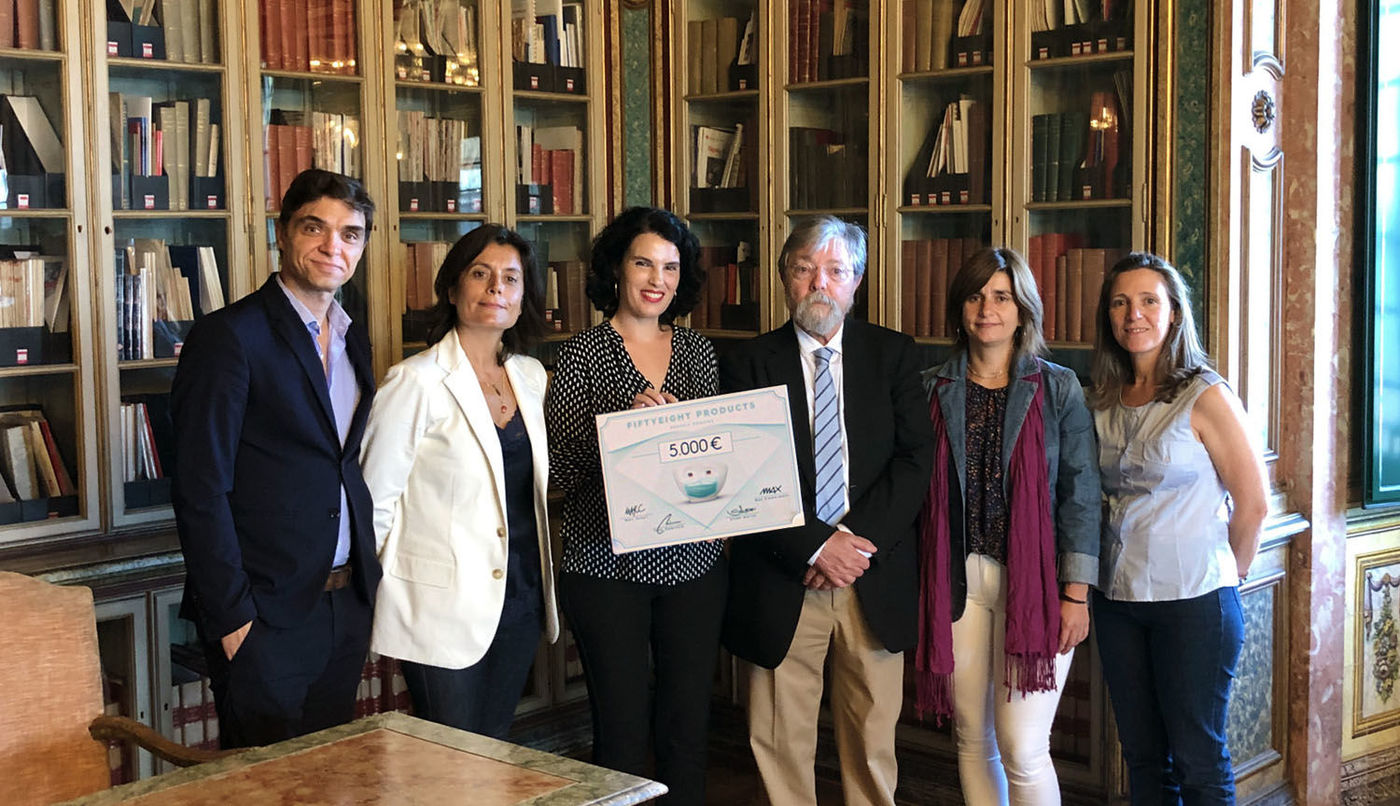 Letícia Souza Macieira, CEO of our Portuguese sales partners Alok delivers the donation to Dr. Francisco Jorge, President of the Cruz Vermelha Portuguesa, and team.

Despite these positive developments, the impact of the pandemic continues to impact families across the country and the need for assistance continues. Every year, the Portuguese Red Cross supports more than 55,000 families with groceries, warm meals, personal care items, medications, and shelter. The relief efforts provide basic needs for thousands of people. Through more than 170 local chapters, the Portuguese Red Cross offers help on the ground right where it is needed on a regional level, for instance domestic support, childcare, and medical screenings.
Through it all, the helpers at the Red Cross are delivering excellent work as a real case study for what is possible when resources and know-how are applied in a targeted manner. For this reason, we listened to our sales partners in Portugal, Alok Design Brands, when they named the Red Cross as we asked for suitable organizations to support in the country.
Many thanks to all the helpers and staff at the Cruz Vermelha Portuguesa. And also, thanks to the international TASSEN community for making this donation effort possible with their purchase of the 'Hopeful' bowl.

WARSAW, POLAND
November 16, 2021

WOŚP Foundation, Warsaw

5,000 EURO

"Cześć Polska!" For our latest donation, we spent some time talking to our partner in Poland, Jerzy Łastowski at Barokka in Krakow. That's how we decided on the perfect recipient for the next 5,000 euro check from sales of our HOPEFUL Bowl.
The recipient is the Great Orchestra of Christmas Charity Foundation (Wielka Orkiestra Świątecznej Pomocy). Also known in short as the WOŚP, it is the largest non-government charitable organization in Poland, headed by its charismatic founder Jurek Owsiak.
The main work of the foundation revolves around supporting healthcare for children and improving the care of elderly people in retirement homes and long-term care institutions. What's more, both of these groups have been impacted significantly by the coronavirus pandemic.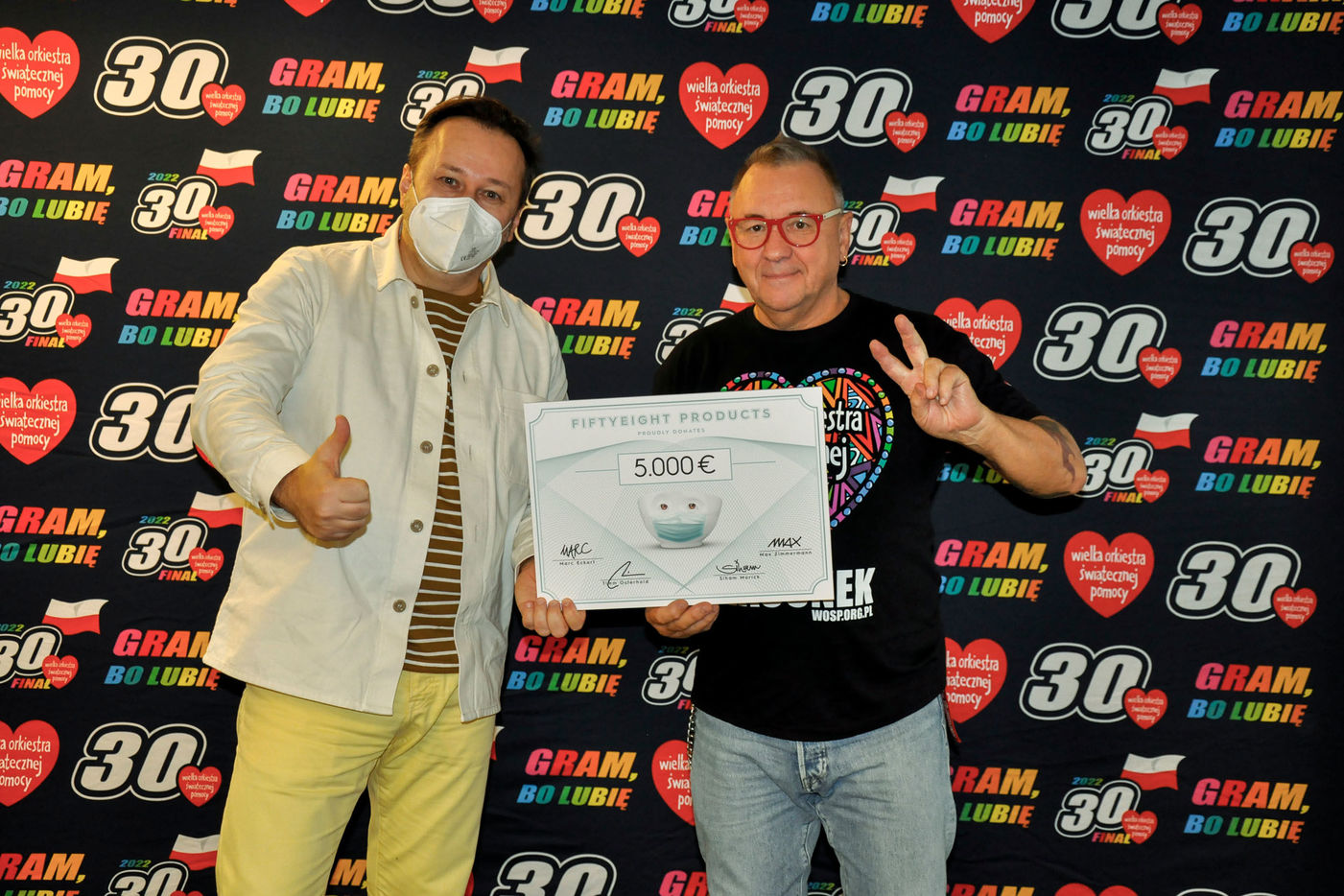 Jerzy Łastowski (left), CEO at Barokka delivers the donation to Jurek Owsiak, WOŚP founder.
Founded in 1993, the organization collects donations to purchase modern equipment for hospitals in Poland. Additionally, the WOŚP organizes initiatives across the country to systematically increase the level of healthcare. These programs include health education at the elementary school level to create awareness for the importance of preventative health screenings at a young age.
We think that this proactive approach by highly involved people and organizations is exactly what we need in these challenging times. With that said, we are happy to see our donation making an impact at the WOŚP in Poland.
A major thanks goes out to Jurek Owsiak and team. Also thanks to the international TASSEN community for making this donation possible with their purchase.
WORLD
February 14, 2022
WHO, Gavi COVAX AMC
8,000 EURO
Hello, world! Mission accomplished: We have finally reached our goal of donating a total of 58,000 euro to beneficial projects and relief efforts across the world. You may remember: We outfitted our popular porcelain bowl with a PPE face mask, which has become the global symbol of the pandemic.
Since the start the initiative, we have donated 1 euro for every bowl sold. We delivered checks in regular intervals to a variety of different organizations. On that note, we must thank the entire international TASSEN community for making this donation effort possible. And we also thank the people who continue working on the frontlines to deliver aid and relief worldwide.
The truth is, the situation is not over! Nobody would probably have imagined at the start of the pandemic that COVID-19 would have a grip on the international community for such a long time. But it looks like we will have to deal with the effects for some time to come. At the moment, we are seeing restrictions being lifted and slight improvements, while vaccination rates are climbing in many countries.
But viewed from a global perspective, a massive demand for vaccines persists. Especially in emerging economies. These countries still require a lot of work to deal with the situation.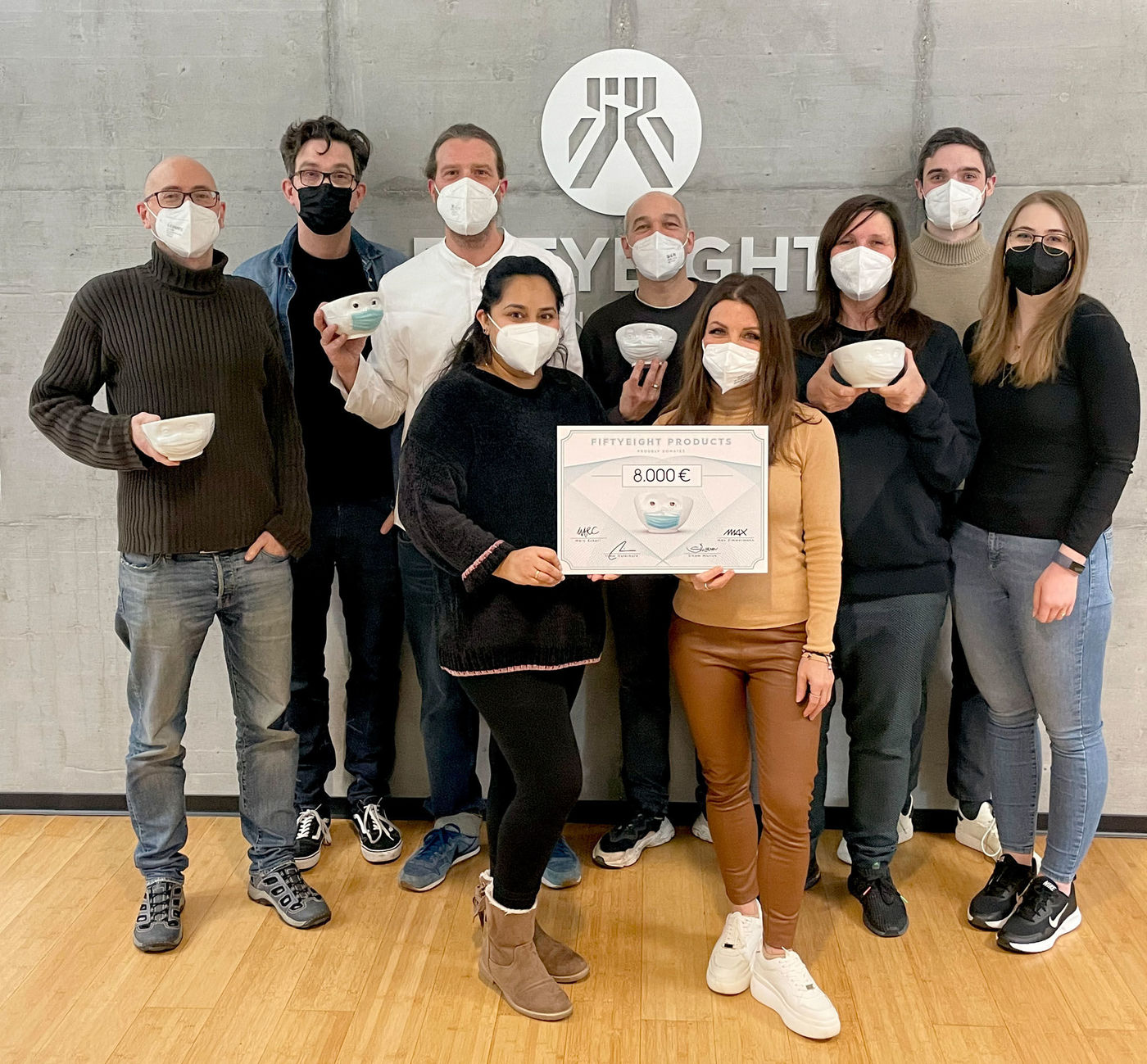 FIFTYEIGHT, Frankfurt Office
For this reason, we have decided to send the final donation in the DONATING HOPE initiative to international relief organization Gavi, the Vaccine Alliance. The public–private global health partnership pursues the goal of increasing access to immunization in poor countries. It brings together partners from the global and public sectors to save lives and improve health standards by supporting fair and long-term access to vaccinations.
The World Health Organization (WHO), as one of the founding members of Gavi and the UN's specialist agency providing leadership on global health issues, is a key policy influence and implementing partner. Donations collected by Gavi are used to fund COVID-19 vaccines for countries in need. True to Gavi's motto: "No one is safe until everyone is safe."
And what's next for FIFTYEIGHT PRODUCTS? The Hopeful Bowl will always remain what it's been from the start: A symbol for shared values, taking care of one another and the firm belief that everything is going to be alright.